We have created a criteria of necessary information needed to mark an intervention as complete. This is a set of information we need to give users of the database enough context about the interventions. In this section, we go over all the elements.
Naming
Most times, we retain the interventions' original name as listed by the implementing organization or funder. For example, well known projects like the Midwives Service Scheme are known as just that in our database. For interventions like free maternal and child health care programmes that are implemented differently across different states, we list each one as a separate intervention. So our database includes separate entries for the Enugu Free Maternal and Child Health Care programme and the Kano Free Maternal and Child Health Care programme. For some interventions, their naming either obscured the work they did or was confusingly similar to another intervention already in our database. In this case, we made slight modifications like including the name of the funder as a precursor to the intervention's original name. An example is Society for Family Health's ten-year Maternal and Child Health Care Project. In our database, we renamed the project as Society For Family Health Maternal And Child Health (MCH) Project Northeast Nigeria. For research interventions, we use the name on the academic or research paper.
Category
All interventions fall under one of the aforementioned categories. Some interventions fall under multiple categories. For example, NPHCDA's Maternal, Newborn and Child Health Weeks (MNCHW) are considered both policy and culture interventions.
Summary, Location, and Status
Each intervention is summarized. Our summaries include their proposed impact, goals and achievements. For location, the intervention is situated in either a particular state, multiple states or nationally. Status is used to reflect the stage at which the intervention is at the time we entered it into the database. We recognize that the status of an intervention can change rapidly, so if you would like to register an update that is not reflected in our database, let us know.
In our database, an intervention may be listed as active, this means that at the time we included it in our database it was ongoing. An intervention may also be completed, which means that the intervention has run its course and ended on or after the proposed end date. Some interventions are listed as closed. Unlike completed, closed means that an intervention was ended prematurely for a number of reasons. Some of the interventions in our database that are considered as closed are often a result of a transition from one administration to another or a lack of funds. Stalled projects are projects where we were unable to verify continued activity.
Implementing Organization
Like the name suggests, implementing organizations are organizations that are in charge of implementing the interventions. These organizations can sometimes be the funders, but often they are not. For example, while USAID was the sole funder of the 1992 MotherCare Nigeria programme, John Snow International and the Federal Ministry of Health actually implemented the intervention by training health providers, educating women and improving health policy.
Tags
At our last count, we have over 50 tags. These tags are used to denote a programme's stage, theme, funding or access. Through this we are able to identify what stage of maternal health the intervention address, the theme or category it uses, (service delivery, infrastructure, etc) what funding type the intervention benefits from - is it a loan from The World Bank or a grant from the MacArthur Foundation - and finally, how accessible it is to the women who need it. For example, is it a paid or free programme?
Funding
All information about programme funding is pulled from source documents we obtained from databases, budgets, news articles, etc. For example, funding amounts for DFID programmes are usually listed in the agency's development tracker. Organisations like DFID often list programme budgets and actual amounts spent as separate items. For our purposes, we use the project's actual spend for our Funding Received Till Date section. For programmes funded by different funding agencies with different currencies, we include both currencies and amounts in that section.
For programmes where funding came from disparate sources, we added up all the numbers made available in programme reports. For example, when documenting UNFPA's Maternal Health Thematic Fund, we added up the programme's expenditure for Nigeria from reports throughout the years. This is how we reached our funding amount received till date.
We continue to reiterate that our claims here are not exhaustive. So much money goes into these programmes and we made a point to document only what we could find. If you are aware of funding that we have not documented, please let us know by completing the feedback form within the intervention dropdown.
A good number of the interventions we've documented are multi-year, multi-funded, multi-country programmes that operate in Nigeria, our country of interest, but also in far-reaching countries like India, Burkina Faso, and Mexico.
Some of these interventions are funded by one agency, like the United States Agency for International Development and even when USAID makes a funding amount available, the amount is usually to implement the programme in all the countries where the intervention is active, not just Nigeria.
One example is the 10-year, $500 million MSD for Mothers global initiative According to the organization, they have reached over 9 million women in 48 countries around the world since 2011 by funding a diverse number of efforts to reduce maternal deaths. We have a number of interventions in our database that we know have benefited from this initiative, but it is unclear by exactly how much. As a result, we've created a category in our database for Funding Vehicles.
Funding Vehicles are used to identify large sums of money that have contributed to multiple interventions.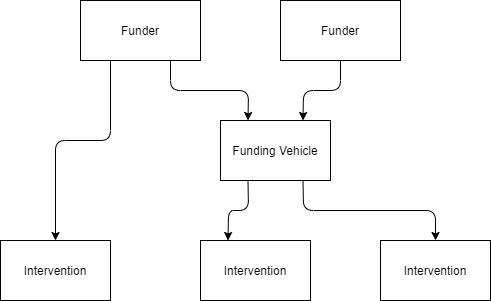 Funding Vehicles are not always multi-year, multi-funded, multi-country interventions. Sometimes they are national programmes like Nigeria's Saving One Million Lives programme For Results initiative. SOML (Programme for Results) is financed by a $500million International Development Association (IDA) credit to the Federal Republic of Nigeria over a period of 4 years, but in addition other funders have contributed to it by providing grants for offshoot programmes. The financing amount is disbursed to Nigeria's 36 states based on their ability to improve indicators like reducing maternal mortality and improving child nutrition.
Project ID
Project IDs are another way to identify an intervention. Different organizations use different combinations of numbers and letters to identify programmes. USAID programmes can usually be identified because they have a cooperative agreement number, while project IDs for DFID programmes begin with a GB.
Documents
When building the database, it was important that we verified the key facets of interventions as much as we could. Before we considered an intervention completely fact checked, we made sure that we had at least two sources verifying pertinent information like funding amounts and geographical locations. Some of these sources included news articles, or old pages on now defunct websites. (we relied on the Wayback Machine a fair bit) We would include these links in our own internal database to make sure we were always able to identify where we got a piece of information from. When we weren't able to find information online, we used the maternal figures questionnaire as a source. Program managers for some implementing organizations were kind enough to fill these out and return them to us. All surveys can be found on SourceAfrica.net. In addition to completed surveys, we also included other source documents in our document cloud page. Almost every intervention has a link to a folder of attachments that can provide contextual information about the programme.
Contact Information
We pulled contact information from source documents or acquired them through our maternal figures questionnaire. All the numbers and emails that are on our website were publicly available.